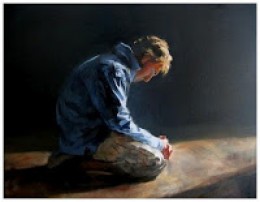 When my spirit was weak, and my heart did ache,
I turned to the Lord, and my pain did stay.
I wondered why when I know I gave my best
To honor God with praise and service with no rest.
In prayer, I asked and rightly so where comes all this woe?
Listening most earnestly, the still voice came to me. He said, "Your pains I know."
"It wasn't when the nails were placed inside my hands."
"If you do your Roman history that was done quite common then."
"Not even when they put the nails in my feet and slashed my side—
Those things for me were small in comparison to how I was tried."
"What made me know your woes and hurt which are not a few,"
"Were the sorrows, sins, pains, sicknesses that in Gethsemane for all humanity I suffered through."
"I understand wanting to quit and find another way."
"I asked Father in agony of sweating blood to pass the bitter cup that day."
"I was depressed, alone and forsaken--feelings I had just on my own!"
"On top of that I suffered for sins that were not mine--a pain until then I had not known."
"'Aba, Father,' I cried; 'remove this cup; nevertheless, thy will be done.'"
"No rest for me; Father knew this path for me, the Holy One."
"I tell you this now, not to harrow you up."
"I know your bitter woeful cup."
"You are my servant, and I don't expect from you my same suffering."
"But to be as I am as I promised, you must bear your personal Gethsemane."
"This too will pass my little son."
"Endure it well my little one."
With those words in my heart and my eyes in tears,
I suffer still for what seems like many years.
I never understood understanding my Christ
Would bring so much sorrow into my Life.
Now I know when good times come to remember them as well as bad to be complete.
This knowledge will help me appreciate life right now, and know why heaven is a place so sweet.